What Rules Do I Have to Follow at a South Carolina Drug Rehab Center?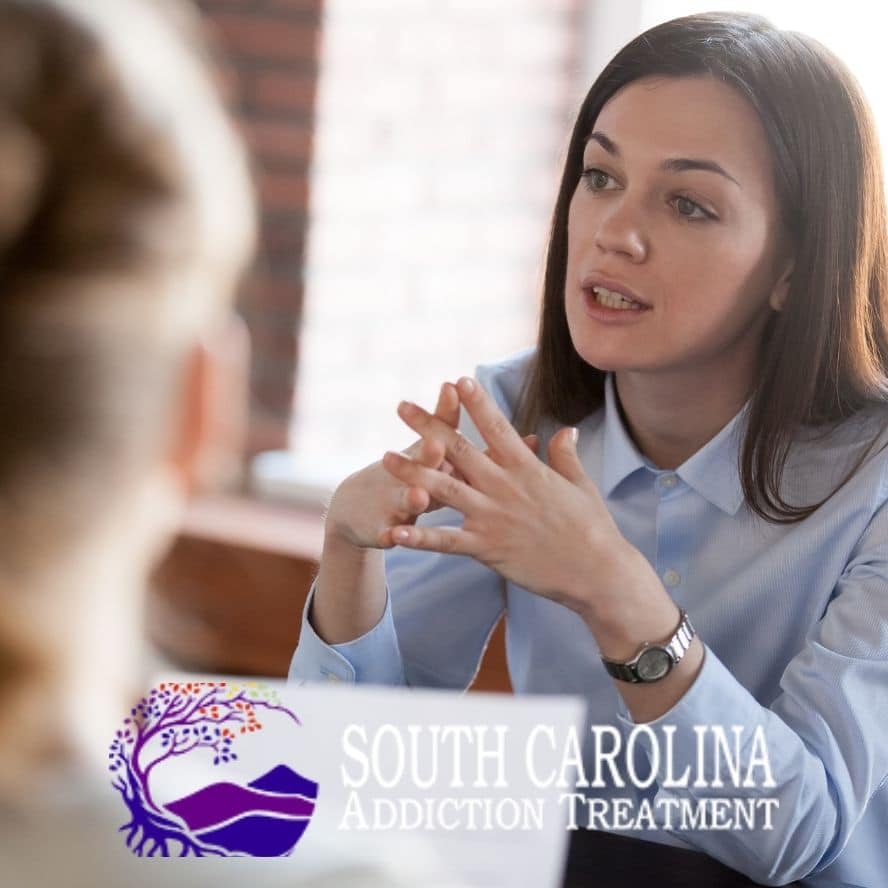 Choosing to go to rehab is one of the most important things you will ever do in your life. Addiction is hard on you–your body, your mind, your relationships, your community. You know you need to do whatever it takes to put it in your past and move into a healthier future.
Change doesn't often come easily, and completing rehab is no different. Completing an addiction treatment program will take a lot of time, energy, and commitment. You will learn a lot about yourself and will discover new ways to handle challenges. You will heal from addiction and open up the rest of your life for new opportunities. You will have the chance to learn from your past mistakes and understand how to avoid them in the future.
For many people, one of the hardest parts of going to rehab is giving up control and agreeing to follow someone else's plan. This includes trusting your therapists and doctors, staying active in your treatment plan even when you don't feel like you want to anymore, and sticking out the tough parts to get to the good stuff.
Following the rules of the facility is a huge part of successfully completing a treatment program. It can be a real challenge to stick to someone else's rules, especially if you have been independent for a long time or tend to rebel when things get tough. Understanding what will be expected of you and your peers can help you prepare for your own time in rehab. While every facility has its own set of rules, here are some of the most common rules during drug rehab in South Carolina.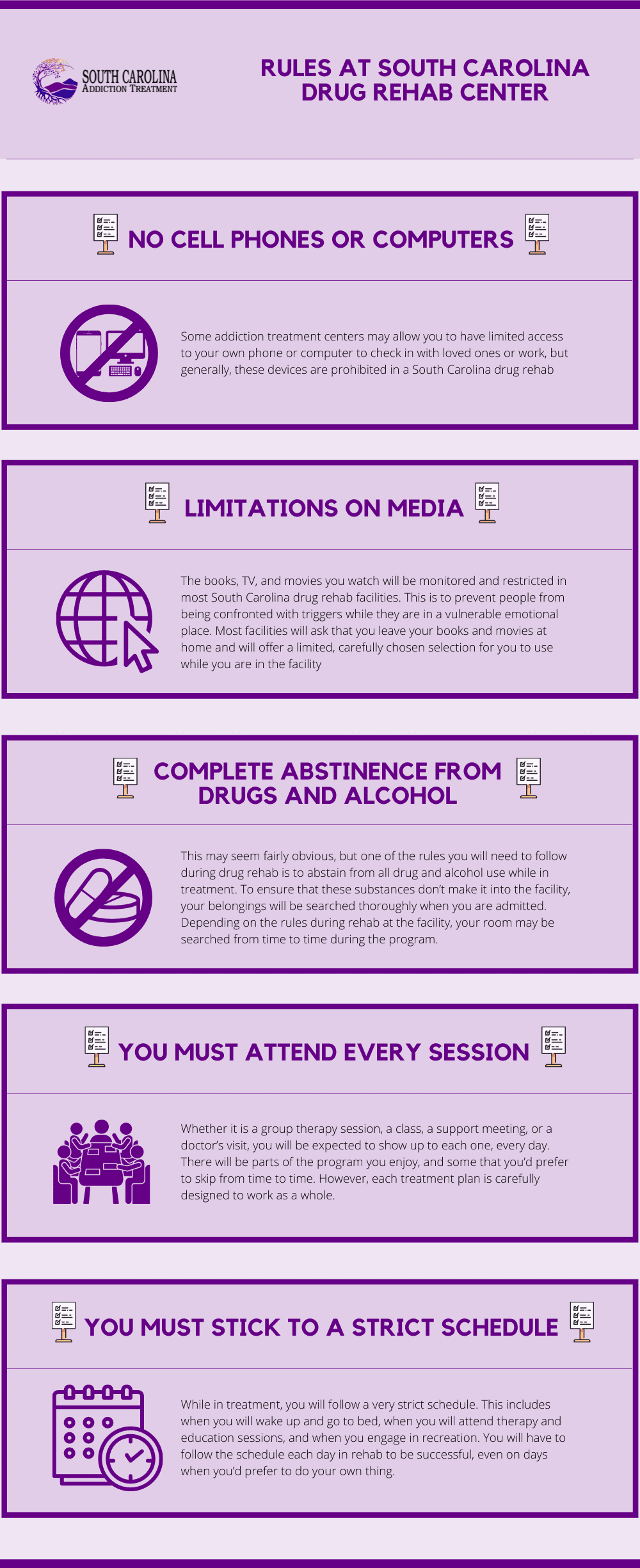 1. No Cell Phones or Computers
Some addiction treatment centers may allow you to have limited access to your own phone or computer to check in with loved ones or work, but generally, these devices are prohibited in a South Carolina drug rehab. This is for several reasons. First, it reduces the number of distractions so that you can focus on your treatment plan. Second, it prevents participants from communicating with people who may impair their progress. Finally, it keeps people from accessing or posting on social media. When there are no phones in sight, people are better able to relax and participate in their therapies.
2. Limitations on Media
The books, TV, and movies you watch will be monitored and restricted in most South Carolina drug rehab facilities. This is to prevent people from being confronted with triggers while they are in a vulnerable emotional place. Most facilities will ask that you leave your books and movies at home and will offer a limited, carefully chosen selection for you to use while you are in the facility.
3. Complete Abstinence From Drugs and Alcohol
This may seem fairly obvious, but one of the rules you will need to follow during drug rehab is to abstain from all drug and alcohol use while in treatment. To ensure that these substances don't make it into the facility, your belongings will be searched thoroughly when you are admitted. Depending on the rules during rehab at the facility, your room may be searched from time to time during the program. All prescription medications must be checked into the staff at the facility and approved before you will be allowed to take them.
4. You Must Attend Every Session
Whether it is a group therapy session, a class, a support meeting, or a doctor's visit, you will be expected to show up to each one, every day. There will be parts of the program you enjoy, and some that you'd prefer to skip from time to time. However, each treatment plan is carefully designed to work as a whole. Being physically and mentally present for every part of the treatment program is essential to your success.
5. You Must Stick to A Strict Schedule
While in treatment, you will follow a very strict schedule. This includes when you will wake up and go to bed, when you will attend therapy and education sessions, and when you engage in recreation. You will have to follow the schedule each day in rehab to be successful, even on days when you'd prefer to do your own thing. These rules are implemented during drug rehab to help you get used to a schedule and optimize your time spent in treatment. The treatment plan is designed to give you the most possible time to heal. You will also be part of a group and will need to be accountable to them, as well as yourself.
Learn More About The Rules You'll Have to Follow at a South Carolina Drug Rehab Facility
Addiction is a serious condition that affects every part of your life. Recovery from addiction is possible with the right support and high-quality treatment. Treatment, however, is only effective when you follow the rules.
If you or someone you love require addiction treatment, you are not alone. Reach out to the staff at South Carolina Addiction Treatment. We offer a range of programs to support your recovery from addiction. Don't wait another day to get the life-saving treatment you need. Call now to get started.
Medically Reviewed: June 23, 2023
Medical Reviewer
Chief Editor
About
All of the information on this page has been reviewed and verified by a certified addiction professional.
Dr Ashley Murray obtained her MBBCh Cum Laude in 2016. She currently practices in the public domain in South Africa. She has an interest in medical writing and has a keen interest in evidence-based medicine.
All of the information on this page has been reviewed and verified by a certified addiction professional.