Gabapentin Withdrawal Timeline, Symptoms, and Treatment
Gabapentin (Neurontin) is an anticonvulsant prescription medication that is used to treat nerve pain and certain types of seizures. It is also used off-label to treat a variety of other conditions such as migraines, chronic pain, fibromyalgia, and some types of substance withdrawal. Although it is not considered a controlled substance, some people do abuse and get addicted to gabapentin.
Over the last 10 years, prescriptions for gabapentin have increased dramatically. In 2017, doctors wrote twice as many prescriptions for the medication as they did in 2011.[1] At the same time, more and more people are abusing gabapentin and becoming addicted to it. Studies have found that 1.1% of the general population have abused gabapentin. Among people who have received treatment for substance abuse, nearly 22% have abused the drug.[2]
Even though gabapentin is sometimes used in the treatment of alcohol and drug dependence, it can be habit-forming. Researchers have recorded numerous cases of gabapentin withdrawal in patients who became addicted to it.[2] Understanding the symptoms that occur during the gabapentin withdrawal timeline can help inform individuals of the risks associated with abusing this medication.
Symptoms of Gabapentin Withdrawal
People who abuse gabapentin may become physically dependent on the medication causing them to experience withdrawal symptoms when they stop taking it. Similarly, regular gabapentin users who take their prescriptions as directed may develop withdrawal symptoms if they skip a dose or run out of their medication. Common symptoms of gabapentin withdrawal include:[3]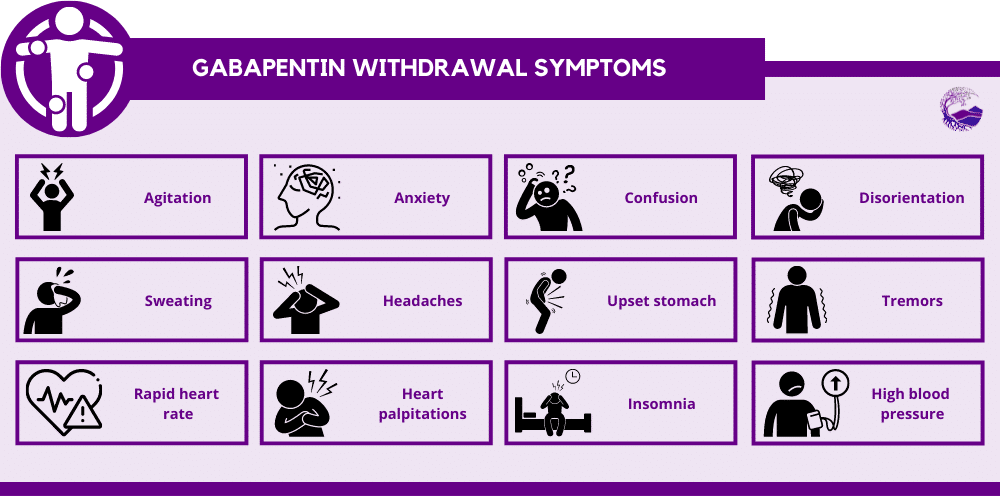 Agitation
Anxiety
Confusion
Disorientation
Sweating
Headaches
Abdominal upset
Tremors
Rapid heart rate
Heart palpitations
Insomnia
High blood pressure
Because of potentially severe and troublesome symptoms, it is always recommended to detox from gabapentin at a medical facility.
Gabapentin Withdrawal Timeline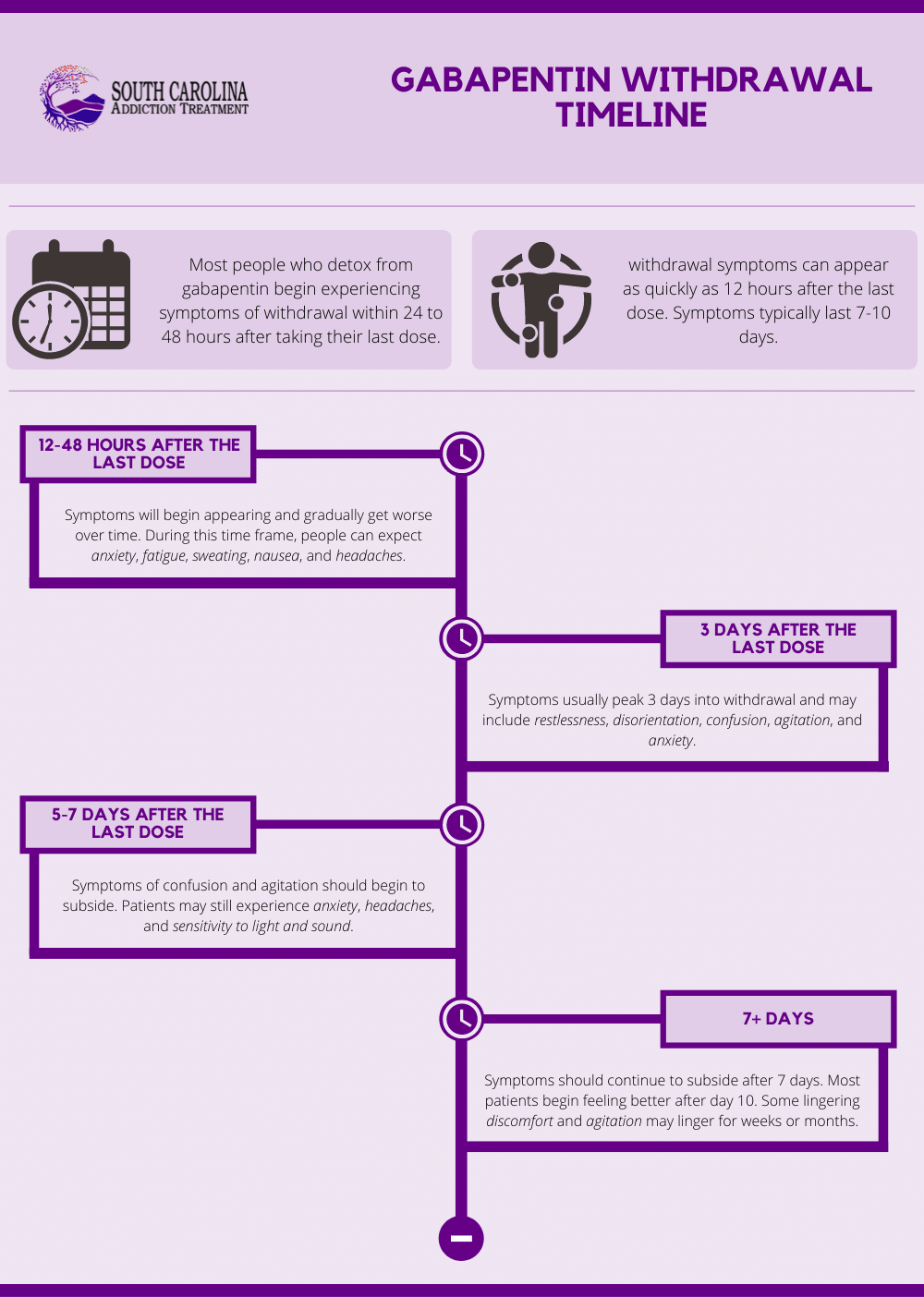 Most people who detox from gabapentin begin experiencing symptoms of withdrawal within 24 to 48 hours after taking their last dose. In some people, withdrawal symptoms can appear as quickly as 12 hours after the last dose. Symptoms typically last 7-10 days.
While the exact timeline may vary from one person to the next, gabapentin withdrawal usually occurs as follows:[3]
12-48 hours after the last dose – Symptoms will begin appearing and gradually get worse over time. During this time frame, people can expect anxiety, fatigue, sweating, nausea, and headaches.
3 days after the last dose – Symptoms usually peak 3 days into withdrawal and may include restlessness, disorientation, confusion, agitation, and anxiety.
5-7 days after the last dose – Symptoms of confusion and agitation should begin to subside. Patients may still experience anxiety, headaches, and sensitivity to light and sound.
7+ days – Symptoms should continue to subside after 7 days. Most patients begin feeling better after day 10. Some lingering discomfort and agitation may linger for weeks or months.
Factors That Affect the Severity and Duration of Gabapentin Withdrawal
How long withdrawal lasts varies from one person to the next depending on their history of drug abuse and individual health factors. Different variables that influence the severity and duration of the gabapentin withdrawal timeline include:
How long a person has abused the drug
How often a person takes the drug
What dose the person consumes on a regular basis
Whether or not other drugs and/or alcohol is involved
Liver and kidney function
Age, weight, gender, and overall metabolism
Whether or not there are any co-occurring health conditions at play
Medical professionals take all of these variables into consideration when treating patients for drug withdrawal.
Treatment for Gabapentin Detox
It is never a good idea to try to detox from gabapentin without medical supervision. Doing so can put individuals at risk for potential complications. Instead, a medical detox center can provide around-the-clock care, supervision, and medications to reduce symptoms.
Gabapentin withdrawal is usually managed with a tapering schedule. Since the medication is used to prevent seizures, stopping cold turkey can be dangerous. After evaluating the patient, a physician may develop a tapering schedule to slowly reduce the person's dose over the course of several days, weeks, or even months. A gradual taper minimizes the risk of complications and helps reduce the severity of symptoms.
Pfizer, the drug manufacturer that makes gabapentin, suggests tapering schedules should last at least one week.[4] When determining how long the taper should last, the physician should consider a person's medical and mental health status as well as their ability to adhere to tapering instructions.
Find Help for Gabapentin Abuse and Addiction Today
If you are prescribed gabapentin and are considering discontinuing the medication, you should speak with your doctor about tapering off the medication. However, if you are abusing gabapentin and are looking for a recovery-focused solution, our team at South Carolina Addiction Treatment can help.
Our evidence-based drug and alcohol treatment programs can help you detox safely during the gabapentin withdrawal timeline and provide you with ongoing care to help you stay sober after that. Our programs will teach you how to live sober without depending on substances to get through the day. Don't wait any longer–call now to get started.
References:
Medically Reviewed: August 27, 2023
Medical Reviewer
Chief Editor
About
All of the information on this page has been reviewed and verified by a certified addiction professional.
Dr Ashley Murray obtained her MBBCh Cum Laude in 2016. She currently practices in the public domain in South Africa. She has an interest in medical writing and has a keen interest in evidence-based medicine.
All of the information on this page has been reviewed and verified by a certified addiction professional.