5 Benefits of Inpatient Drug Rehab
Beginning a life of sobriety after experiencing a period of reliance on drugs can be difficult, however, it is possible. Early sobriety can pose many challenges, including learning how to live life without the aid of mood and mind-altering substances. Additionally, when an individual stops using substances, they have to overcome both physical and psychological dependence on their drug of abuse. However, quitting drugs cold turkey is never recommended as it can be dangerous. As a result, individuals who desire to beat their addiction must seek inpatient drug rehab.
There are endless benefits and opportunities that can arise from attending an inpatient drug rehab in Greenville, South Carolina. For example, inpatient programs allow patients to obtain safe and focused care for their substance use disorder. Additionally, patients will receive professional physical, emotional, and psychological health care. Our residential programs in Greenville, South Carolina help patients lower their chance of relapse during early sobriety by requiring them to reside on-campus.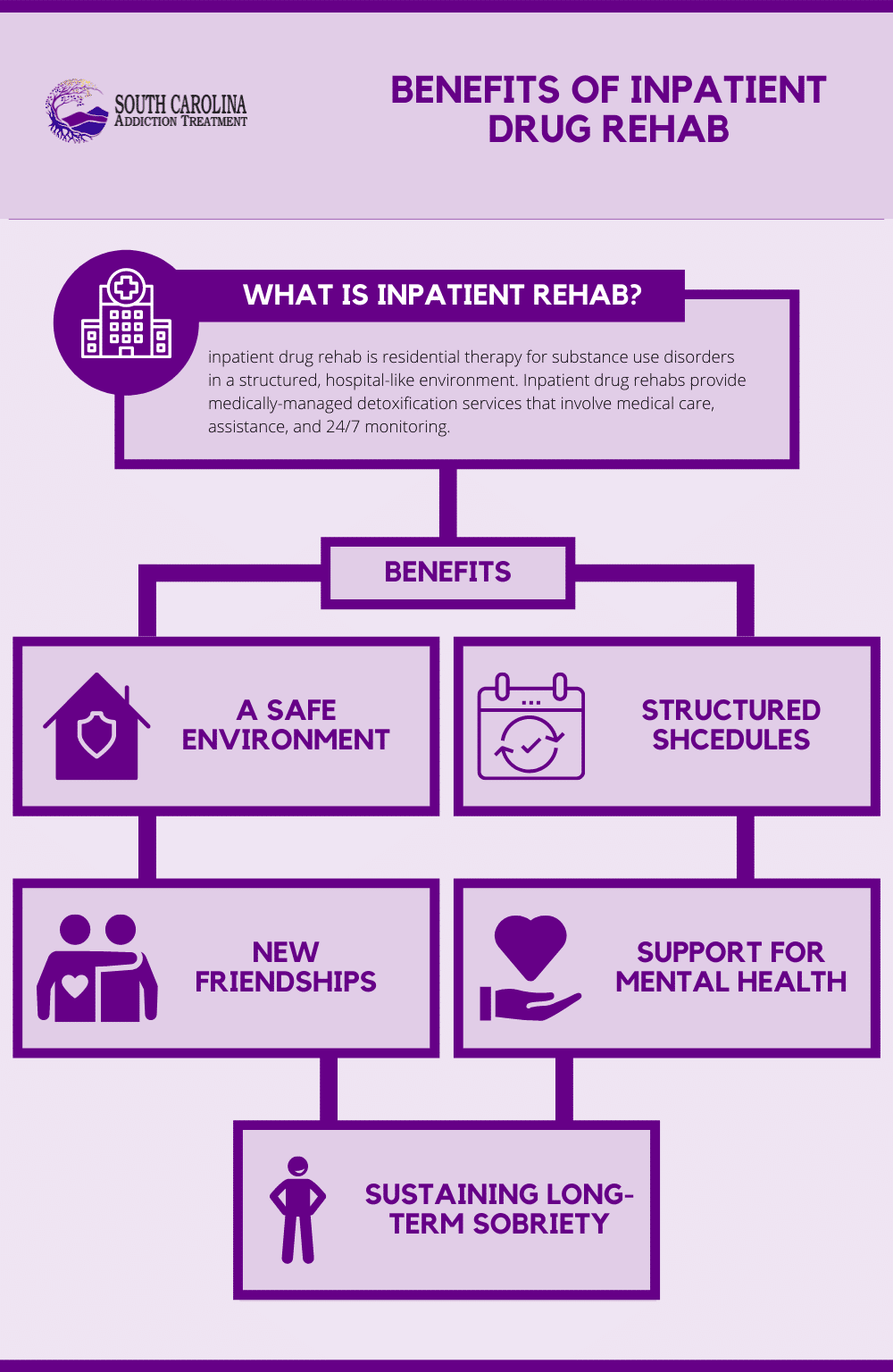 What Is Inpatient Drug Rehab?
By definition, inpatient drug rehab is residential therapy for substance use disorders in a structured, hospital-like environment. Inpatient drug rehabs provide medically-managed detoxification services that involve medical care, assistance, and 24/7 monitoring. This is done in order to protect each patient's safety, as well as properly manage their withdrawal symptoms. After the detoxification process is completed, patients will undergo a combination of therapy and counseling in both individual and group settings. The combination of addiction treatment methods and modalities utilized in residential programs makes it the best option for recovering addicts.
Let's take a look at 5 benefits you have access to if you attend our South Carolina drug rehab.
#1: A Safe Environment
One of the most significant benefits of inpatient drug rehab is the fact that patients will be in a safe and supportive environment. Additionally, patients will be surrounded by other individuals who are working towards the same goal; lifelong sobriety. Inpatient drug rehab staff members have typically overcome their own addictions as well, making patients feel safe enough to speak freely.
During inpatient treatment, individuals will be separated from their outside lives. This allows them to detach from their daily stressors and separates them from substances or alcohol. Additionally, patients are protected from negative influences, such as phone calls from drug dealers or friends that they used to abuse substances with. In doing so, patients can fully focus on their sobriety, without negative or detrimental distractions.
#2: Structure
During inpatient drug rehab, individuals will have structured and planned days. This includes attending individual and group therapy sessions at scheduled times throughout the day. Additionally, regular medical check-ups are provided in order to ensure that patients are healthy. Because individuals have structured days, they have less time to think about obtaining or using drugs. Additionally, this helps patients to learn how to control drug cravings as they may arise.
#3: New Friendships
Oftentimes, individuals in early recovery feel lonely or misunderstood. Attending an inpatient drug rehab allows individuals to meet like-minded people who understand what healing from addiction feels like. As a result, it is common for patients to make lasting friendships and connections. Even further, the friendships made during treatment often blossom into a friendship of support, understanding, and motivation to continue doing the right thing.
#4: Support for Mental Health
One of the many benefits of attending inpatient programs is the heavy focus they place on mental health. Oftentimes, individuals with substance use disorder have a co-occurring mental health condition. Sometimes these mental health conditions go undetected due to the overlapping of symptoms with substance use disorder. However, inpatient drug rehabs in Greenville, South Carolina provide extensive and individualized mental health treatment plans. As a result, patients are able to become mentally healthy and stabilized, through the aid of therapy or medication when needed.
#5: Learning Tools for Sustaining Long-Term Sobriety
While attending an inpatient addiction treatment program patients learn about addiction, including what triggers are and how to control them. Drug rehab patients receive psychotherapy that promotes healthy and effective coping mechanisms, allowing them to control their urges to use drugs. Additionally, individuals will learn about what may have caused their addiction, allowing them to prevent it from reoccurring in the future.
Inpatient Drug Rehab Serving Greenville, South Carolina
Our inpatient drug and alcohol rehab program provides patients will 24/7 health care, support, and extensive addiction therapy. Additionally, residential programs allow individuals to connect with their peers in a beneficial, and mutually supportive way. Overall, the combination of addiction therapy, medical health care, peer support, and learning healthy coping mechanisms provides patients with the best possible foundation of sobriety. As a result, patients will be prepared for sobriety in the "real world", allowing them to properly manage and control their emotions and stress responses.
Inpatient drug rehabs serving the cities of Simpsonville, Greenville, and surrounding areas can provide individuals with the addiction help they need. If you or a loved one are in need of inpatient drug rehab, South Carolina Addiction Treatment Center is here for you. Call one of our addiction treatment specialists to learn more about our treatment programs.
Medically Reviewed: August 27, 2023
Medical Reviewer
Chief Editor
About
All of the information on this page has been reviewed and verified by a certified addiction professional.
Dr Ashley Murray obtained her MBBCh Cum Laude in 2016. She currently practices in the public domain in South Africa. She has an interest in medical writing and has a keen interest in evidence-based medicine.
All of the information on this page has been reviewed and verified by a certified addiction professional.